Research Reports / Material Series
Research Reports / Material Series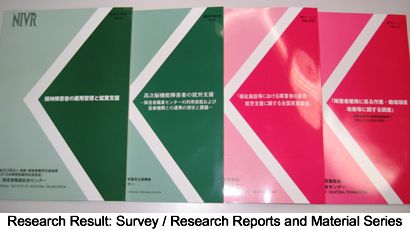 The NIVR opens to public various research results obtained through surveys / researches on vocational rehabilitation and practices of vocational rehabilitation services for dissemination and use so as to contribute in promoting vocational rehabilitation and improving quality of services in Japan.
The result of research are published as Research Reports and Material Series regularly in Japanese. Material series are reports summarizing the tabulation results obtained during processing various surveys and researches, collected data, translated overseas literatures, etc.
Listed are the outlines of each issue provided English translation. Original reports (only in Japanese) are available from PDF files.
In addition to summarizing the results of surveys / researches and practices as reports and documents, the NIVR creates manuals, textbooks, various tools, etc. based on these results and distributes them to the Large Region Vocational Centers, the Local Vocational Centers and the related organizations in such fields as labor, welfare, medicine, health, education as well as associations and private corporations.
Readings Vocational Rehabilitation